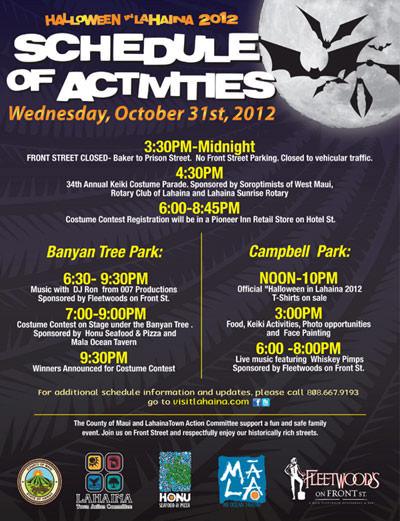 Every year Lahaina's Front Street is closed to traffic for the event of the Halloween season.
Come revel on Front Street with 20,000 other people as this small whaling village comes to life with color and craziness, live bands, contests and many more activities.
Dress up in your favorite Halloween attire and join the throngs of people in costume along Front Street and in Lahaina's many Bars and Restaurants. If you work hard at your appearance  join one of the costume contests and compete against the other ghouls.
Make sure you start driving from Kihei about two hours of when you want to be there. The line can be long. Go earlier for easier parking .
Please be responsible and have a designated driver. The MPD will be stopping visitors as they exit Lahaina for DUI checks.
Click the image for the full PDF document –>
If you want to beat the traffic there are a number of charters taking people via boat such as this one on the Quicksilver Maui from Boss Frog's… Reserve as early as you can!
If you can carpool, please do.
Aloha! Have fun and be safe!