Online Reviews and Testimonials for Luana Kai
Check out our professional and visitor reviews on this page and at these other important sites.

Wow! At Luana Kai's Kihei Resort we get a lot of testimonials. Far too many to provide here. We look forward to receiving your Maui condo rentals testimonial too!
Recently I celebrated my 25th anniversary at Luana Kai and I sent out an email thanking you all for everything you've done and the pleasure of working to make your stay wonderful. Well I wasn't expecting such an overwhelming response! Here's a few emails we received from you.
Thank you so much!
It's always a Great Day at Luana Kai!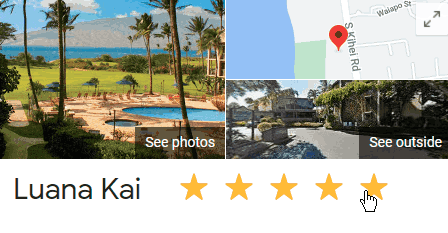 OMG you guys... I don't have the words to tell you how sad the six of us are to leave. The boys were broken hearted at the airport...we "grown ups" are about the same. Luana Kai has become our Hawaii home and every year it gets harder to go back to regular life...for we four adults, it feels like Jackson and Carter have grown up right here under the tiki torches and the trees... I hope you both know how much you mean to us. We think of you two as people we have always known..the kids talk about "Leslie and Mario" as family and we wouldn't even consider coming to Maui and staying anywhere else. The island has become synonymous with the two of you and this resort? A safe comfortable haven where we can relax, unwind and enjoy living, stress fee, and without any concerns. We love you guys... thank you for absolutely everything...
Good morning Leslie! Just wanted to thank you again for the great 2 weeks we had in A105. Our family loves staying in your beautiful place and will return again later next year! A105 has become our 2nd home. We have some friends who are hoping to join us and the family again next time! Continued success to you and the family... best wishes for a very very happy 2014!
Dear Leslie, I wanted to send you a thank you for helping to make our Maui visit so pleasant. The staff, our condo unit in bldg. D, and services were just all excellent. We would definitely return. A big mahalo to all of your staff!
Dear Hotel Partner, Due to your participation in the Guest Review Reply project, we are writing to let you know that a guest who just submitted a review of your accommodation, Luana Kai Resort, has opted in to the possibility of receiving a reply from you. Here's what they said: "It was beyond my expectations, the staff was very friendly. And the room super clean also to my surprise the kitchen was very equipped I was able to find from a wine cork opener to a measuring cup. We had a great time, we will always hold dear to our heart the Luana Kai and will be looking toward to be back." Kind Regards, Booking.com
Hi Leslie, I just wanted to take a moment to tell you that my wife and I had a wonderful time staying at Luana Kai last week. A101 was perfectly stocked and was a lovely location. We enjoyed being able to sit on the lanai with our coffee in the morning and our adult beverage in the evening watching the ocean and the folks in the park. Thank you again for allowing us to depart late due to our very late flight on Sunday evening. It basically gave us an additional day of vacation. Please thank Mario again for helping us to jump start our car on Monday. Following his advice we were able to get a replacement through the rental agency with a minimum of trouble. We were very sad to have to leave but we will certainly come back to visit again soon. I think we have found a permanent base camp on Maui.
---
Leslie and Mario:
Thanks for the update. Also, wanted to thank the both of you for the wonderful hospitality you showed us last month and, every time we "come home." Once again, thanks and we will "come home" in January for a while.
Mark and Ginger
---
Hi Leslie,
My name is Taylor C. and I recently stayed at your wonderful resort a few weeks back. I want to thank you again for upgrading our one bedroom to a double. We all greatly appreciated it and cannot thank you enough! You were so helpful with information concerning the island and your pleasantness made our stay that much more enjoyable. Myself and the rest of the group had such an amazing time and cannot wait to come back to Maui and visit you back at Luana Kai!
Thank you very much,
Taylor C.
---
Hi Leslie,
How wonderful that we have had the pleasure of knowing you practically from the start of when you were at Luana Kai, as I think we probably started going there back then. Congratulations on a job well done. We are always happy to hear your voice on the phone…you sound like you are smiling all the time, and always willing to help in any way. We are so happy you are there!
Thank you,
Gail Zavala
---
OH YAY! I'm hoping that summer, maybe fall, 2013,
Peter and I can make it out there again… I've been away far too long! Well, in case I don't get around to congratulating you on Tuesday, CONGRATULATIONS! You are an awesome "hostess" to us all & your love and professionalism and courtesy and friendliness and smile, are just a few things why I keep coming back to my &dquot;home away from home&dquot;!
Love,
Therese
---
Congratulations on your 26th year coming up at Luana Kai,
Lyn and I wish you the very best in your 26th year and many more years to come. Leslie I am sure as many of your other guest who have stayed at Luana Kai not only tell their freinds about how beautifull the rental condos are and the beautifull surroundingse but also tell their freinds how nice the rental condo manager is and she is always willing to help you out. Lyn and I are leaving next weekend on our cruise with our son, his wife and their three children, Lyn and I are home sick for Maui and are planning to go back and see you next winter ( 2013 ).
Wishing you all the best,
Lyn & Andy
---
Thank you for sharing your wonderful milestone with us.
How amazing 25 years at Luana Kai and yes my how quickly the years fly bye. Jeff and I are off to China for the month of May to celebrate my 60th Birthday. Have had parties in the past but thought travelling on my birthday and being in another country would be different. Heard on the news Hawaii had been affected by the tsunami that has devastated Japan. Hope Luana Kai is still in tact. Thank you for looking after us over the many years and being a friend. Looking forward to seeing you at Luana Kai in June.
Take care
Cheers
Jeff ,Diana, Kash and Quil
---
Congratulations, Leslie!!
Twenty five years at Luana Kai, I can not believe it! You look like you are twenty five yourself!!
We are missing Maui big time but are heading to warmer California and Arizona on Monday…. not as nice as Maui, but it will have to do for now.
Best wishes to you.
Andrea and Jerry Andersen
---
Aloha Leslie,
Paul & I want to send you congratulations on your 25 years of service on Maui! What a wonderful place to work & live~ Thank you, also, for all of the things you have done for us to be able to get back there all of these years. We renewed our vows on our 20th anniversary out at Palaeua, with a pleasant evening party around the pool with our friends at Luana Kai; really wonderful! It's been 24 years for us visiting our "island home," only missing in 2010.
We look forward to seeing you soon on our arrival April 19th! Can't wait; believe that!
All the Best ~~~
Debbie & Paul Gliwa
---
Happy 25th Anniversary Leslie,
We have stayed at the Luana Kai for many years on our winter vacations from the time it was new. Since you have been there, you have always been helpful in making our stay very pleasant. Always keep that smile!!
Love,
Gary&Julie
---
Aloha Leslie;
A Big Congratulation on your up coming 25th Anniversary, at Luana Kai , with only going to Luana Kai and knowing you for three years , I can see how you manage to still be taking care of Luana Kai . Its so pleasant to walk into the front office at Luana Kai and see your friendly smiling face , your up beat personally , it makes a dull day turn into sunny day seeing you behind the counter as you are always so willing to help . I hope you all the best in the years to come and hope you continue on managing Luana Kai .
My wife Lyn and I will be seeing you soon as our flight gets into Maui on Thursday March 10, 2011 at 8:20PM, so we will be looking forward to see you on Friday of March 11.
Once again Congratulations on your 25th anniversary and have a great day on Sunday.
Lyn & Andy
---
Hi Leslie,
Congratulations on your anniversary of 25 years at Luana Kai. I hope you have many, many more wonderful and happy years and anniversaries there.
I know, personally, that I have enjoyed each and every visit and stay at Luana Kai. I cannot remember the exact date of my first visit and stay there, but it probably started in the early 1990s when I attended legal seminars in nearby Wailea. I have stayed at Luana Kai at least 10 times and, mostly in 210B.
You are living the dream I once had when I first visited Kihei and stayed at Luana Kai.
You and your staff, especially you, always made me feel at home – leaving a beautiful vase of beautiful Hawaiian flowers on the counter with a note "Welcome to your second home Ann." You have no idea how much I enjoyed this act of kindness. At any rate, please continue your great life.
Hope to see you in the latter part of this year.
With love and best wishes,
Ann
---
Happy 25th Anniversary Leslie!
I'm sure it has been a lot of hard work over the years, but also what a blessing to live in such a beautiful place.
We came to Maui for the first time the last 2 weeks of January and stayed at your resort, Luana Kai. We had the most awesome time and we will definitely come and stay there again the next time we come to Maui. Wolfe and Silvia Isachson, very good friends of ours, recommended your place to us and we are so glad they did. Also, Kihei is such a great town to stay in, with everything so conveniently close.
It must be such a wonderful place to live. You are so blessed!!
Take care and we look forward to seeing you again one day, hopefully not too long!
Sincerely,
Christine Bergunder
---
Congratulations Leslie on a remarkable milestone! We hope to be back to Luana Kai some day in the future 🙂
James & Cheryl Bilcox
---
Dear Leslie
Congratulations on your 25th anniversary and you do not seem a day older. Mairie and I had a lovely time when we were at your complex 201 at the end of Sept 2010 and we look forward to coming again when we have accumulated the funds. March 5th is also my birthday.
Best wishes to you and your staff who made our visit very exceptional
Colin Towler.
---
Congratulations Leslie, a great life story!
The best of everything,
Much Aloha and Hugs,
Roger and Colleen Ingman
---
Happy 25th Leslie!
I would like to weigh in with the countless others who no doubt have flooded your email and phone lines with congratulatory messages. You may not even remember me. We just met last Christmas when I brought the whole family to Luana Kai for Christmas and New Year. We had one of the best vacations ever, and if the opportunity presents itself again in the future, we will be back in a heartbeat. Helping to make the stay at Luana Kai so enjoyable was your cheerfulness and enthusiasm. You truly make Luana Kai sing. Wish I were there right now to give you a celebratory toast…but as it is not possible…hope this email will suffice in wishing you all the best…and another 25 more good years…..so we can all celebrate a golden anniversary in 2036.
Gene Daniel
Nanaimo, BC
Canada
---
Wow Leslie!!
How wonderful! Happy Anniversary and hope you have 25 more
Jim & I are so sad we will not be making it back to wonderful Luana Kai this year for our vacation. My mom's health has been an issue and this year have decided to stay a bit closer to home for vacation. We will miss seeing you and everyone there this year & we hope to make it back for Spring of 2012.
Mahalo ~
Jane & Jim Dienema
---
Leslie,
Congratulations! We love it at Luana Kai too. Thanks for all your hospitality. We are spending four days in the snow at a Central Oregon resort.
Have a wonderful day.
Jerry
---
Congratulations Leslie,
We came to the Luana Kai for our first of over a dozen times in May 1986 and have always enjoyed working with you.
Thanks for everything
Kraig & Lisa Luther
---
Congrats, Leslie.
My how the years go by! We really enjoy staying at the Luana Kai and being
served by one of the most friendly, accommodating and upbeat managers on Maui. Your service is wonderful.
Enjoy your celebration! Wish were there to toast you…
John and Linda Elmgren
---
Congratulation's Leslie on 25 years!!!!!!!!!!!!!
You and your staff have always made my stay in Maui a most pleasurable one. Specifically because of that reason, is why I always choose to return to the best place in Maui to stay…Luana Kai.
Richard Costello
LONGTRAILHEAD – XTERRA Off Road Triathlon racing circuit
---
Happy Anniversary Leslie I hope you have a wonderful day!!!
We have always enjoyed working with you whenever we come to Maui and stay in unit A105.
Hope to see you soon in the future,
Pam Taylor
---
Congrats Leslie!
We sure enjoyed our time at Luana Kai, and our wedding was beautiful at Secret Beach. All Amy does is talk about moving there!! We hope all is going well for you and all the tennants, we look forward to visiting again someday.
Your friend
Paul Word
---
Leslie,
And a most happy anniversary to you. I owe you a big hug!
Hold on until April, and I'll deliver it.
Gary
---
Hey Leslie,
You've certainly been good to us and very accommodating of our son's disabilities. Luana Kai is an amazing community. Congratulations on your part in shaping that welcoming environment.
Take care,
Ross
---
Happy Anniversary Leslie!
So nice to have a face to attach to that card hanging on my wall. 25 years is a long time in one spot but Maui is soooo lovely. I'm going to be on Maui later this year, hopefully I will be able to swing by for a face to face.
Sally
---
Congratulations Leslie,
We didn't meet you when we stayed @ Luana Kai recently unfortunately. We really enjoyed our stay, & hope to return.
Shirley Marcuse
---
Still as pretty as ever
….Happy Anniversary, Leslie. 🙂
Walt and Quita
---
Dear Leslie,
Happy anniversary!!! You have NOT gotten a day older looking! Hard to believe that we were there at the beginning with you. Even tho much has happened in all of our lives, Luana Kai remains a constant source of relaxation….a place of no worries! (at least for us).
Hope you celebrate in a fabulous way.
Fondly,
Dwight and Sue Naset
---
Leslie,
Thanks to you and all your staff. We had a fantastic time in Hawaii and hope to be back soon. The condo was perfect! We really appreciated your "Aloha Spirit" on our last day, when one person in our group was sick. The views were great and the pics were exactly as posted on the website. I'm positive we will be back with you soon.
Thanks again for everything!
Robin
---
Leslie & Luana Kai Staff,
I just wanted to send a BIG thank you for a wonderful stay at Luana Kai! All fourteen of my family members had an amazing time. We had so much fun playing shuffleboard, volleyball, soccer and of course lounging by the pool! Our condos were amazing! We stayed in A103, A303 & A307.
Most of us will be back in January 2011 for my Mom's 50th birthday! See you all then!
Rachel Milne
---
Thanks for a great vacation
This was my husband's and my 2nd trip to Maui–first time at Luana Kai. This time we came with my sister and her husband. Our condo was great!! We were with you for 2 weeks and even the 2 days of rain were fun. The pool, hot tub, grills and short walk to beach were just perfect.
The girl who helped make our tour arrangements was very helpful.
Diana and Nelson McKee
Middlesex,NY
---
Aloha Leslie!
My wife and I would like to express our sincere gratitude to the Luana Kai Resort staff once again for helping to ensure our 1st ever stay in Maui was a memorable one! We didn't want to leave paradise!
Condo A205 was our home away from home, and we enjoyed all the amenities that Luana Kai had to offer. The pool area was absolutely wonderful to enjoy, the sunsets were amazing as well. Our condo was spacious and clean. The Lanai gave us excellent ocean views. We also left some comments in the suite guestbook for future travellers.
Your professionalism, flexibility & overall excellent customer service give us several reasons to remember the Luana Kai next time we plan a Maui vacation. We will also be sure to keep the Luana Kai resort in our minds when we hear of friends & family who plan to travel to Maui. We especially appreciated your willingness to accommodate our special circumstances, having to break up our stay into two different stints due to the lack of flexibility of our other resort booking agency. Booking with you was as easy as one phone call and a few emails.
Your happy demeanor made the whole process easy for us.
Mahalo!! We'll be back one day…
James and Cheryl
---
Leslie,
We just returned from our second stay in two years at the Luana Kai and I just wanted to thank you, once again, for providing a fantastic place to call home while on Maui. The improvements to the pool area and the addition of air conditioning and wi-fi are greatly appreciated.
Part of our entourage chose to stay just up the beach from the Luana Kai, but it was at your facility that we all returned to each evening to gather by the pool and enjoy the Jacuzzi and each others company.
Keep up the good work!!
Sincerely,
Dennis, Gay and Carsson Davidson
Florence, Oregon
---
Hi Leslie,
I´m sorry that I missed to say good by to you and your staff. We've been searching the sun and forgot about closing time of your office. Once again, it had been a great time on the island and we enjoyed it so very much. My sister has been there for the first time and she was overwhelmed from nearly everything: the precious weather (over in Germany we've 40° to 50° F temperature and most of the time no sun), the lovely beaches and landscape, the easygoing way of living, good shopping etc.
Again: thank you for the nice accommodation and everything. We´d pleased to visit you in some time.
Mahalo and Aloha,
Juergen
---
Aloha Leslie,
Just wanted to say thanks again for setting up the condo for us. We had a wonderful time and hope to be back around the same time next year. My husband and nephew did well at the Maui races and can't wait for next year.
The view we had from the condo was wonderful. As I mentioned before we stayed their about 2 years ago with another family and this time we were with a different family and each time it has just been wonderful.
Thanks again and hope to be back next year.
Mahalo Nui Loa,
Mary B.T.Salvador
---
Dear Leslie and the Luana Kai staff,
Thank you for allowing us to spend a fabulous vacation at your amazing resort. Your condos are clean, spacious well stocked and of course gorgeous! The grounds and pool/bbq area were always immaculate. Your staff was always friendly and very helpful. The entire resort felt like we had a second home in paradise.
Maui is breathtaking and being able to sit on your private lanai and watch the sun come up early every morning is indescribable until you are actually there to appreciate it. Luana Kai is the best place to experience that feeling and we have told our travel agent to express that to any of her other clients wanting to enjoy Maui. We already have friends who would like your number to book a time in March.
We will be back next year and we will be bringing along more family and friends to enjoy your wonderful resort. Hopefully we will be able to
book the same condo again, it was PERFECT!
Mahalo to all and we look forward to seeing you again very soon!
Ray and Jackie Jacobs, Canada
---
Just a quick note to say thank you and tell you how much we enjoyed our stay at the Luana Kai. We stayed there with friends for 8 days last November. Both couples were celebrating their 25th wedding anniversaries together. The room was clean and comfortable and the grounds were fantastic!! Flowers, birds and palm trees galore! We spent countless hours on our private lani, by the pool and on the cozy beach enjoying the fabulous views, warm weather and each other's company. It is not whether or not we will stay at the Luana Kai again, it is when will we stay there again?
Thanks again,
Dennis and Gay Davidson
Florence, Oregon
---
Thank you for the "kitty fix" while Jim and I visited your beautiful home. We enjoyed our vacation so much–the condo was perfect (clean, spacious, thoughtfully stocked), the view was breath-taking, and the grounds spotless) and hope to return to see you next year.
Love, Sandra
---
Aloha,
We had a great time in Maui this year… well we always do! And Luana Kai helped it be better! We can't wait to go back next year because Luana Kai is a great place to stay and meet new people! So mahalo Luana Kai for making our trip to Maui wonderful!
Aloha and mahalo,
The Sladek's and Maggie!
---
Aloha,
Just wanted to thank everyone at Luana Kai for our wonderful visit there this month. The facilities were awesome & everyone so friendly. We sincerely appreciated the home-like atmosphere even though we were guests. Your cooperation & assistance in coordinating our check-out & other arrangements was first-class service and deserves more than "a job well done". We have already recommended your site to several other families that we know will be visiting Maui in the future. Again, thank you very much for making our vacation that much more enjoyable
Sincerely & Mahalo
Rhonda Gillikin
---
We had a lovely time at your resort. Thank you for allowing us to have our son's wedding performed on your grounds. Since returning to North Carolina we have been telling our friends about our wonderful stay this past June. Our granddaughter still talks about the pool and the jacuzzi. She is only 4 and a half and wants to return for another vacation. Thank you staff for making our visit number one. The grounds were well kept and the three bedroom unit that we rented was excellent. We plan to make Luana Kai our stop when we return to Maui as a family. Mahalo!
The Charles Miller family
---
To the folks at Luana Kai
Laura and I had a great time in Hawaii this year. We really enjoy staying at Luana Kai. The people there are always really nice and always helpful. I especially like the way that the grounds are always so well trimmed and the pool is always clean. These things may not mean a lot to other people but to us it is important. We are especially impressed with the fine job Peter and Nancy do to help with activities, and the help at the front desk are
always there to assist when possible. So thanks again, and we look forward to seeing you next year.
Sincerely
Mark
---
Thanks Leslie.
I really appreciate your service. Every time we have stayed at Luana Kai the service, the staff, and the facilities have always been 5 star in our book. With all the details and stress over making sure our daughters wedding perfect last July, it was a welcome relief knowing that our stay at Luana Kai could only make it that much more perfect. Again thanks. We will let you know what dates we can make. Again, thank you very much for all you've done for us…and the map.
P.S. Tell Peter and his wife we said hi.
Thomas V. Drennon
Triumph Composites Inc.
Production Manager
---
Dear Leslie, Shelli, and all,
We have been back home in Atlanta for several weeks now, but still basking in the pleasant memories of the time that we spent there at Luana Kai. We cannot thank you enough for your wonderful, warm hospitality to us and our family. We thank you for everything that all of you did to make it one of our most memorable trips to Hawaii! We will surely plan to come again and hope "our" unit will be available when we can make it.
Mahalo from all of us,
Mary Anne Reibel
---
Hello Leslie,
Just a quick note to thank you again for all your personal help in making
our stay with you a "super one".
We found our stay to be relaxing while a learning experience – there is so much to learn about your beautiful island.
Hope all goes well for you and Luana Kai – hope we'll see you again in the future……….
Sincerely,
The Graeffs (Jennifer and Jim)
---
Dear Leslie, Stephanie, and Luana Kai Staff:
My fiancé and I can't thank you enough for all of your warmth and hospitality while we stayed at your resort. We were with Georgia Koon's group of 58 people and loved every minute of our two week stay. Not a day went by that we were not greeted with a friendly smile or an Aloha from one of your staff or groundskeepers. Rumor has it Georgia is putting together another group to come back. My fiancé and I plan on joining her group again! Thanks again for everything!
Your friends,
Michelle Gambino & Michael Fleck
Hatboro, PA
---
On my first visit to Maui over 15 years ago, I did not know that I would be so fortunate to find such an oasis of peace and relaxation that I have found at the Luana Kai. It has been my "home away from home" ever since where the staff is always friendly and helpful and the accommodations always comfortable and above average. Just think, what could be better than to walk from your condo across the lawn to sit on the beach and watch the sunset, or have breakfast on your lanai watching the calmness of the ocean or the playful whales, or barbequing fresh fish on the numerous barbeques around the gorgeous pool and spa area?
It is indeed a place I have recommended to anyone who is looking for the best a vacation spot can offer. Even on the rare occasion when it rains in Kihei, things are always sunny and pleasant at the Luana Kai.
Sherida Kasteler
Los Angeles, CA
---
Everyone knows that Hawaii is a bit of heaven on earth.  What some may not know is that Luana Kai is a shining star in that Paradise!  From the fully furnished and equipped condos to the activity availability, to the immaculate grounds, to the best and friendliest staff around – you simple can't go wrong here.
Therese Cook
Lemoore, California.
---
To Luana Kai:
My family & I  really enjoyed our stay at Luana Kai. We were impressed by your friendly welcome and great service. The rooms were perfect for us. The children loved the pool and the putting green area. I appreciated having everything we needed right in our room, coffee maker, laundry, cooking utensils, barbeques, TV, CD player & VCR. The whole resort was well taken care of.
Thank you,
The Isachsens
---
The Luana Kai has been our spot since 1997.  I brought my In-Laws and my husband for the first time.  We all loved the warmth and charm of this resort, so much so, we have been back a second time.  Now I am coming back for a third time and bringing 58 other people with me.  That should say alot about the Luana Kai!!
Love you guys,
Georgia and Larry Koons
Hummelstown, Pennsylvania
---
It has been almost a month since we returned and are ready to come back. I cannot say enough good things about our vacation at Luana Kai. It is more beautiful and relaxing than the pictures show. The staff was extremely pleasant and helpful and went out of their way to direct us to different places to see and things to do. My daughter enjoyed it so much she is talking about having her wedding on Maui, assuming of course that her boyfriend asks her. With the exception of the airfare from New Jersey, vacationing at Luana Kai is cheaper than going to the New Jersey shore for a week for the same accommodations beachfront. We will be back. I not sure when, but we will return and recommend to anyone visiting Maui to stay at Luana Kai.
Sincerely, Dennis, Lori and Allison Hunt
Voorhees, NJ
Wow! At Luana Kai's Kihei Resort we get a lot of testimonials. Far too many to provide here. We look forward to receiving your Maui condo rentals testimonial too! Recently I celebrated my 25th anniversary at Luana Kai and I sent out an email thanking you all for everything you've done and the pleasure of working to make your stay wonderful. Well I wasn't expecting such an overwhelming response! Here's a few emails we received from you. Thank you so much! It's always a Great Day at Luana Kai!