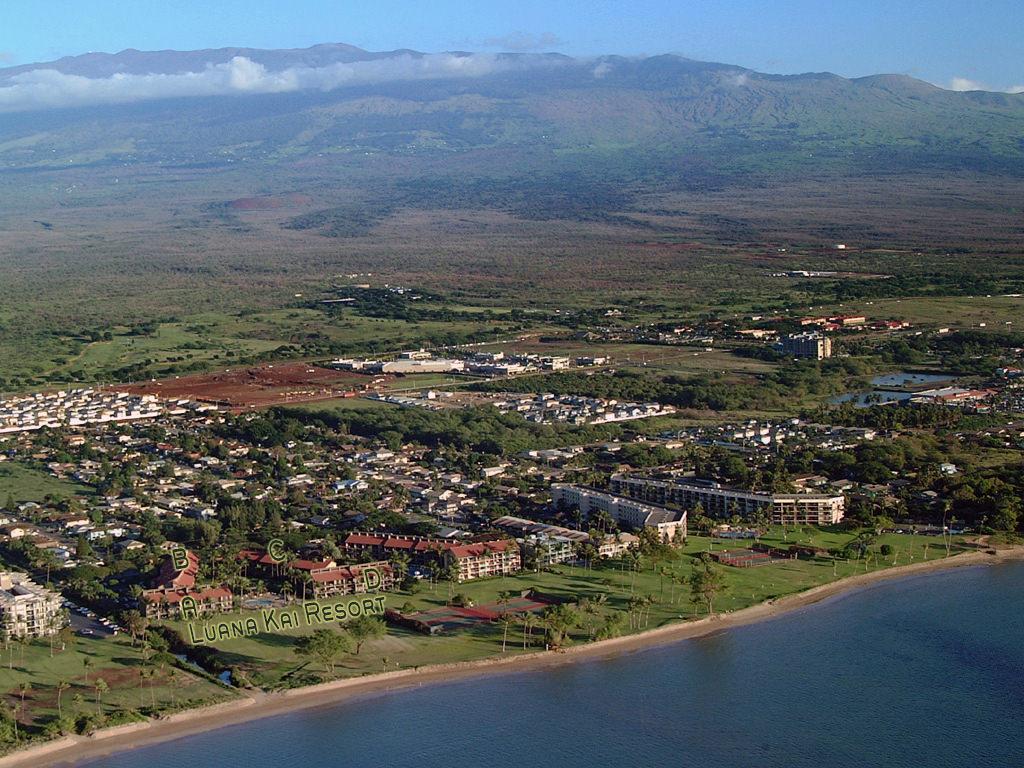 Sure we have your pool, sauna, spa and putting green but on the verge of Luana Kai is the sea and between Luana Kai and the ocean is a huge grassy park. Waipuilani Park is approximately 20 acres. The accompanying images give a hint of just how big this park is. You can step out of your condo and stroll this park at any time but naturally dawn and dusk are the best times. This is a State park so you may see locals walking their dogs, an occasional family picnic and at the far end is a public bathroom and parking lot. There are 6 public use regulation tennis courts here. If you enjoy tennis you may be able to join a game with a lone player.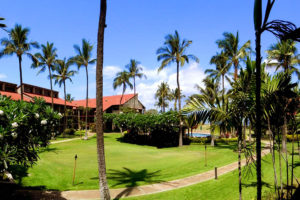 You may also enjoy Frisbee, picnics or flying your own kite. In years past the far end of the park was used frequently by stunt kite flyers and you might still catch a few plying the winds above the majestic palms. There is so much Luana Kai recreation to choose from and plenty of time to relax and play.
Throughout the year kite surfers and windsurfers can be seen frolicking on waves, zipping by or jumping quite high into the air. From here to North Kihei's Sugar Beach is one of the best places for windsurfers in the entire world. You can spend time simply enjoying their florescent colors dancing on the deep blue.
The far end of the park is also where local fisherman walk far out on the shallow reef to catch fish. At sunset it almost appears that they are walking on water and sometimes their dogs will follow them to form a perfect tropical picture.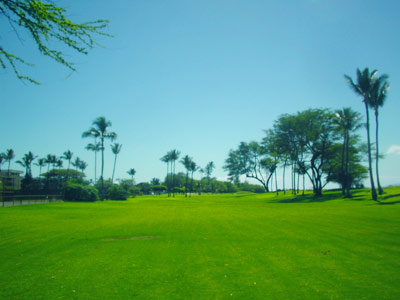 20 acres Waipuilani park
The park is perfect for children though they should always be supervised as the ocean is close by. They will probably want to look for some shells. You can bring buckets and shovels to play in the sand. A few minutes' drive from the very best beaches swimming beaches in the world, it is not recommended to swim directly off shore here due to currents and seaweed beds and also due to the lack of lifeguards. Please enjoy the ocean safely so you can return to your Maui Condo. The pool is perfect for swimming and is usually uncrowded. You can leisure at the pool and saunas while you barbecue some ono grinds, including world famous Azeka's Ribs from Azeka's which is about one-half mile down the road. Simply put if leisure is your goal, Luana Kai provides it. Luxuriate in the long and warm Maui days on the sunny South shores and feel that sweet breeze each evening in the quiet spaces of Luana Kai's large enclosed inner sanctum. Putter around on the golf tee's while sipping margaritas and telling tall tales. Book readers find great solace here and in the park. With so much time to do just nothing, your on Maui time here and every day is your choice for fun in the sun, socializing with great people or pure week long siesta. Aloha! We welcome you to Luana Kai where the day is as great as it is long.