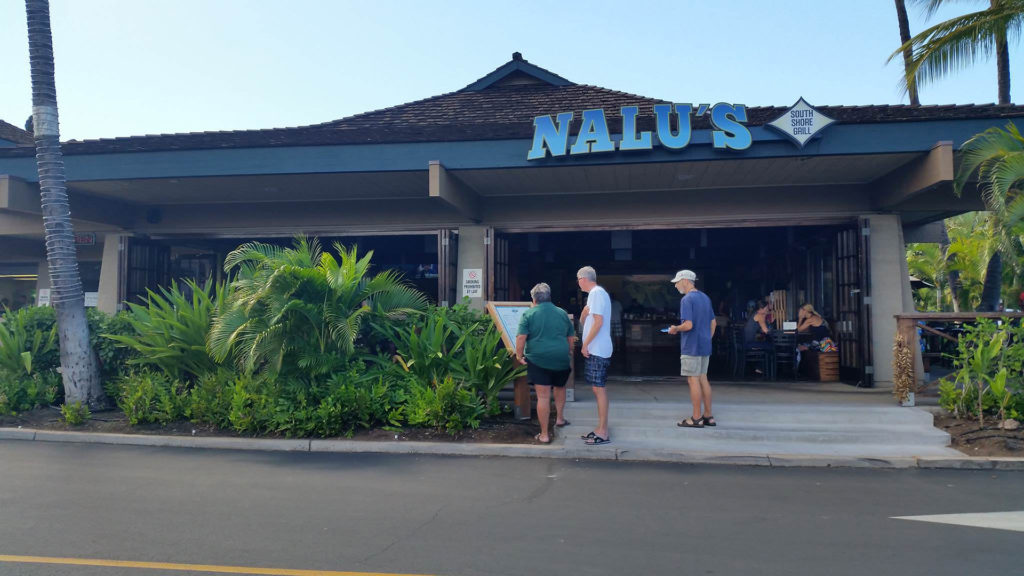 There are a lot of great Kihei Restaurants. There may be more in Kihei than any other part of Maui. From take out to the finest dining on the island. Yelp lists 494 of them. Well we're just going to illustrate a few right now but if you don't like what you see here, there's plenty more to choose from. 
Nalu's South Shore Grill – Nalu's is mostly an open air restaurant but can close for rain or wind. Nalu's is in the Azeka Shopping Center on the Ocean side of South Kihei Road. It is across from the Ace Hardware building where IHOP used to be. It has a bar and casual eating areas spread out in the large dining room. I had a burger and my friend had a large salad with seared ahi. Everything was delicious and the coffee was good too. The ordering is a bit awkward as you have to purchase your food up front at the register and then be served at your table. It's hard to know what to tip before you eat.
Sarento's On the Beach – SARENTO'S HAS CLOSED. Sarento's has won award after award since opening on Maui in 1985. The brainchild of Aaron Placourakis and now part of his Tri Star Restaurant Group owned jointly with Al Souza and Jiro Naguchi LLC. Joined on Maui by Son'z Nick's Fishmarket, and Manoli's Pizza Company. Sarento's is the finest Italian dining you can possibly imagine. Sarento's serves breakfast and Dinner. Lunch time is used to create the perfect menu and perfect meals. You can sit at the bar and order pupus or get a table and watch the sunset, the waves, Molokini, and Kaho'olawe. Scampi's, Pastas, Ribs, Steaks nd more round out the menu with the best flavors you may ever experience.